By: Subham Tiwari
Updated: 03 March, 2022 12:52 pm IST
LUCKNOW: Uttar Pradesh recorded 53.31 percent voter turnout in the sixth phase of the state assembly elections till 5 pm today, the data provided by the State Election Commission shows.
Ambedkar Nagar district recorded the highest polling at 58.66 percent, while Balrampur was at the bottom of the list with a voter turnout of 48.53 percent.
Siddharth Nagar recorded 49.77 percent voting, Basti 54.24 percent, Sant Kabir Nagar 51.21 percent, Maharajganj 57.38 percent, and the voting figures in Kushinagar district stood at 55 percent.
Deoria district witnessed 51.50 percent polling, Ballia 51.81 percent, and Gorakhpur, the home turf of Chief Minister Yogi Adityanath, recorded a voter turnout of 53.89 percent by 5 pm.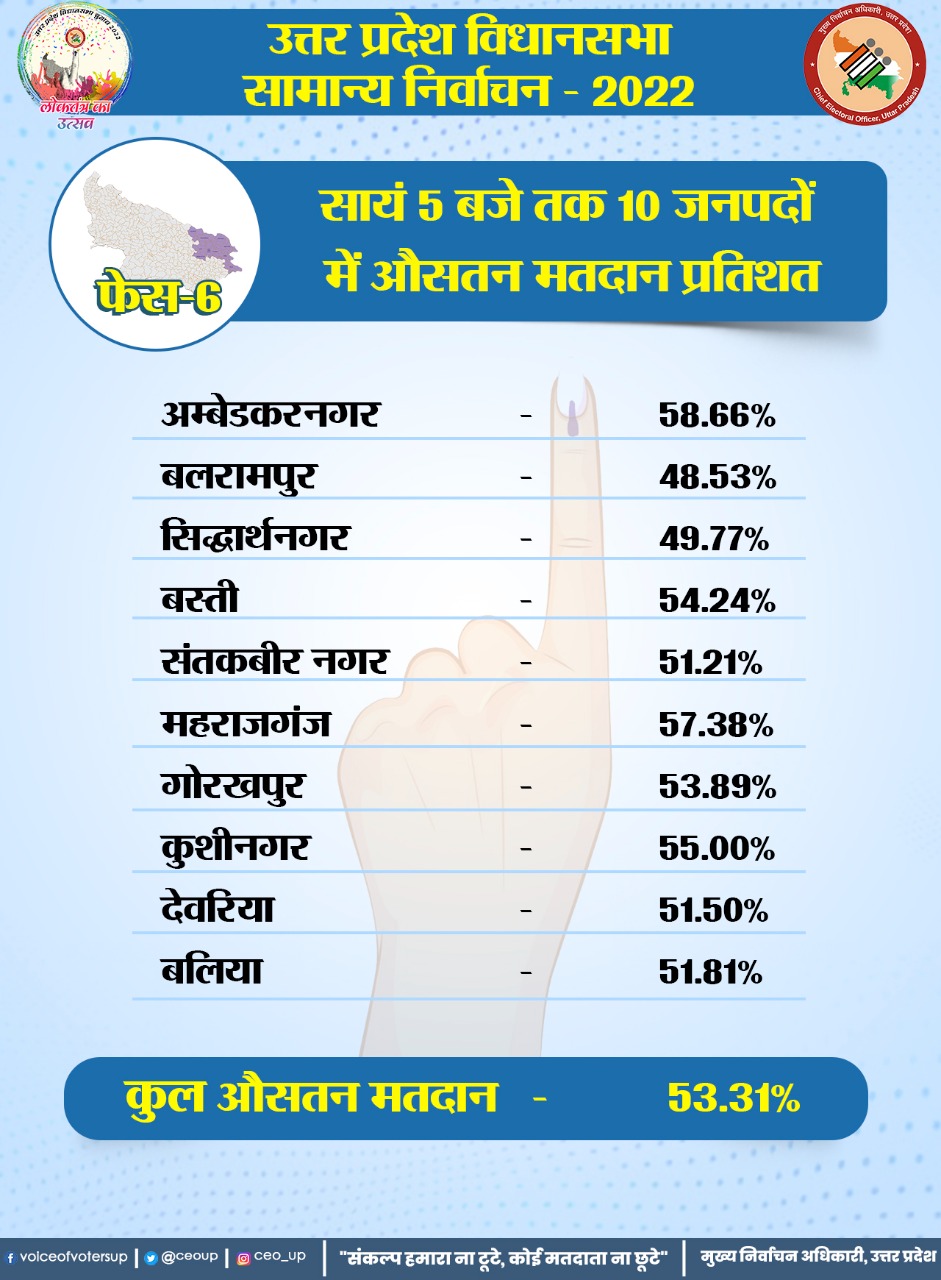 The chief minister is contesting his first assembly election from Gorakhpur Urban seat.
The ten districts voting in this phase reported an average polling of 46.70 percent by 3 pm, 36.33 percent by 1 pm, and 21.79% percent voting by 11 am today.
Voting at 13,936 polling stations of 57 assembly constituencies of eastern Uttar Pradesh started at 8 am and concluded at 6 pm.
A total of 676 candidates including 66 women are in the fray for the sixth phase of elections.
The seventh and last phase of polling will be held on March 7. Counting of votes for the Uttar Pradesh assembly elections is scheduled to take place on March 10.