CHANDIGARH/NEW DELHI:  Eight years after the then wrestler-turned-druglord Jagdish Bhola, who was arrested in a Rs 6500-crore synthetic drug scam, had accused Shiromani Akali Dal chief Sukhbir Badal's brother-in-law Bikram Majithia of him as a kingpin leading to the summons served by ED on him, Punjab Police has booked the key Akali Dal man on charges of NDPS Act, triggering a political war ahead of 2022 state polls.
The FIR against Majithia has been registered by Bureau of Investigation (BOI) on personal orders of Punjab DGP Sidharth Chattopadhya, a 1986-batch IPS.
Chattopadhyay, who was left out favour for almost a decade during SAD-led and Capt Amarinder -led Congress regimes, was brought in as the police chief on December 16 after his predecessor Iqbal Preet Sahota was overnight sent to Punjab Armed Police (PAP) in Jalandhar.
The FIR is based on a report by Special Task Force (STF) chief Harpreet Sidhu, a 1992-batch IPS apart from 2014 Enforcement Directorate (ED) summons and subsequent interrogation of  Majithia, his replies and confessional statements of Amritsar-based businessman Jagdish Chahal, Bhola and one Maninder Aulakh before the ED seven years ago. The FIR also puts a spotlight on the role of two Canadian accused — Satpreet Satta and Parminder Pindi, who are wanted in the case on drug syndicate. The case relates to manufacture and supply of pseudoephedrine within and outside India.
In its premise based on opinion by Punjab advocate general on building the NDPS case against Majithia, the FIR by Punjab Police states, "Intentional use of government machinery, including vehicles and security personnel and other government facilities for assisting, facilitating and abetting drug trafficking and other related illegal activities is an offence.
Sources in Punjab Police said the above opinion has been made keeping in view that ED findings had mentioned the role of two wanted drug scam-accused Satpreet Satta and Parminder Pindi, both of whom had come from Canada to attend marriage of Majithia. This was disclosed  in statement by Chahal and Aulakh.
While Chahal had told the ED that "Majithia had provided one gunman, driver and Innova car to Satpreet Singh Satta. All these persons used to stay at house No. 43,Green Avenue, Amritsar, the residence of Majithia", Aulakh had stated in December 2015 "I know Satpreet Satta who is an NRI of Canada. He was introduced to me by Majithia, revenue minister of Punjab in 2007 at his house in sector 36, Chandigarh where Majithia was residing on rent basis. Pindi had come to India from Canada to attend the wedding of Majithia. I was introduced to Satta by Majithia. Majithia told me he was coordinating his election campaign for MLA…"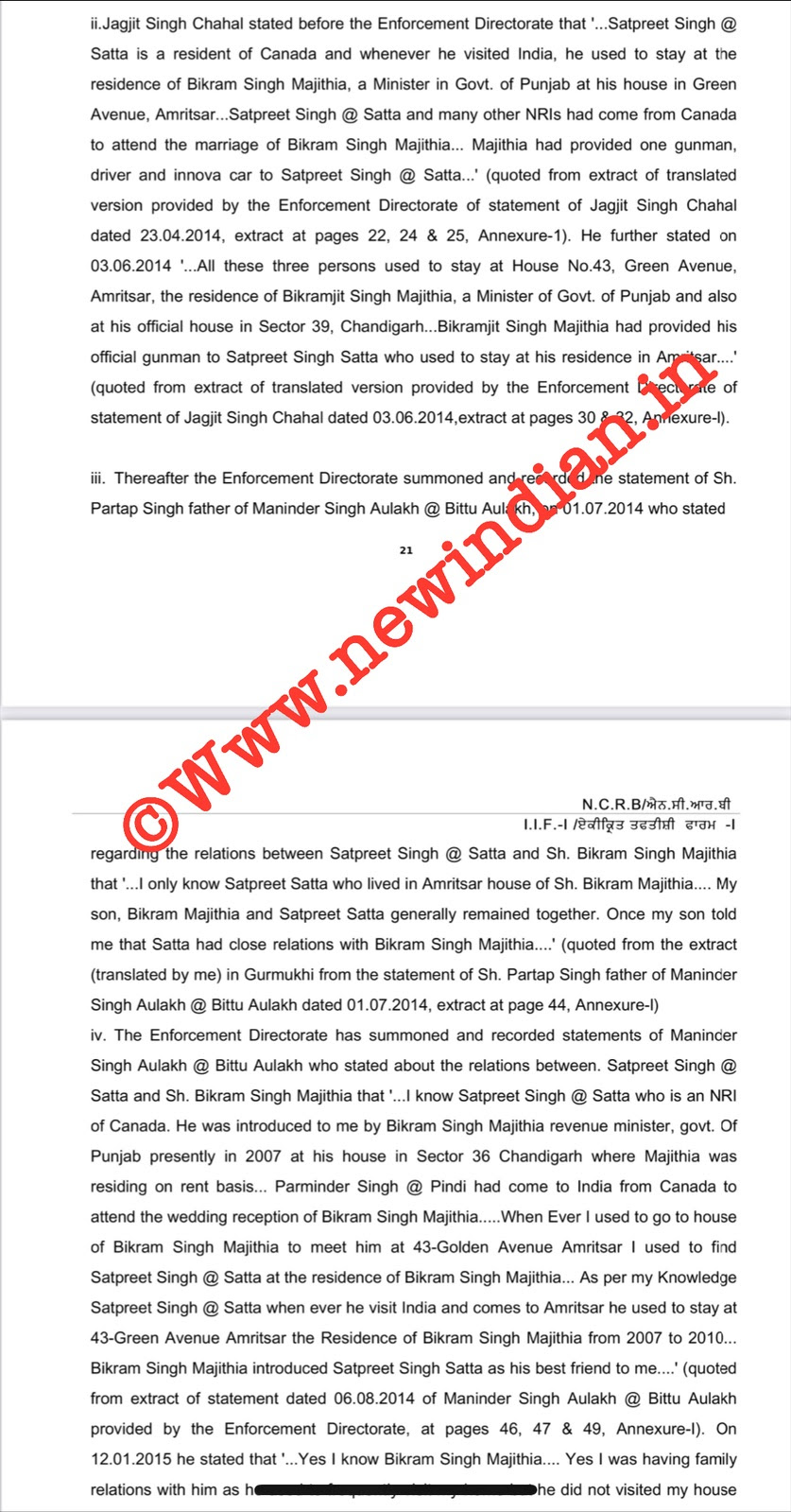 The Punjab Police FIR has also blew the lid over what Majithia had told the ED in its reply in 2014 summons for the first time in seven years.
Majithia's reply to above charges on patronage of Satta and Pindi is quoted in the FIR as this "As you in Punjabi culture, there are many by the name of Satta, Satti, Sukhi, Jagga, Jaggi, please ask me a specific name. As there can be many Satpreet Satta".
Majithia then further told the ED," I happen to know one Satpreet Singh, who met along with Canadian ministers and MPs. His first cousin Raj Chahal was advisor to then PM of Canada. Mr Satpreeet Singh also worked as special assistant to Allan Rock, the then Minister of Justice, health and industry, …..He may have stayed with me a few times. Since I have not gone to Canada  in last 10 years. Who I met to years ago, I will not remember in Canada when I was there. I have had no financial dealings with him or anyone abroad…."
In 2017, it was then Amarinder who had sought Sidhu's repatriation to state from his CRPF tenure amid a promise by Congress that it will probe the drug nexus in Punjab. But Sidhu went out of favour when he had recommended investigation against Majithia in his report in February 2018, triggering a war in the rank and file of Punjab Police and internal rivalry with two DGP-rank officers Suresh Arora and Dinkar Gupta unwilling to take action on STF report.
The FIR also points out ,"For necessary action on orders of DGP Sidharth Chattopadhyay……I have examined a February 2018 report by Special Task Force (STF)  on December 2 and opinion taken on December 1 by Advocate General , which said that there is no embargo for the law enforcement agencies to act on the prima facie findings of the status report filed by the STF".
A controversy had erupted last week after BOI chief S K Asthana had first declined to reinvestigate the charges against Majithia, and wrote a letter on December 11, saying "he wanted to place on record my apprehension that further investigation which in reality is in the nature of reinvestigation, shall require appropriate order by a  superior court, which in the present case is high court".
It is still not clear what conspired between Asthana and Sahota.
This had led to furore within Punjab Congress as state Congress chief Navjot Singh Sidhu had convened an overnight meeting with CM Charanjit Channi and sought a replacement of DGP Sahota, to press charges of drug syndication against Majithia — that was one of the poll planks by the Congress party before it came to power in 2017 but never registered a case.
The Monday's FIR has made a veiled attack on Asthana, hitting back his premise, saying "that intent of court was to treat prima facie the STF report and police diary, that there is no bar for further investigation under CrPC 172 and that it is essential that offences of drug trafficking of section 25, 27, and 29 of the NDPS Act,
SAD leader Prem Singh Chandumajra called it a political vendetta, saying Congress will face the ire of people during this election.
Sidhu made the announcement on Twitter on Tuesday. "Justice will not be served until main culprits behind the Drug Mafia are given exemplary punishment, this is merely a first step. Will fight till punishment is given which acts as a deterrent for generations. We must choose honest & righteous & shun drug traffickers & their protectors."
In a trail of tweets Sidhu further said that, "An FIR has been registered in Punjab Police Crime Branch against the main culprits of Drug Trade on basis of February 2018 STF report, wherein i demanded this 4 years ago – It is a slap on the face of all those powerful who slept for years on issues at the heart of Punjab's soul"
"After 5.5 years of fighting against a corrupt system run by the Badal family and Captain [Amarinder Singh] and a delay of four years without action taken on the Enforcement Directorate and Special Task Force Report against Majithia," he wrote in a tweet. "Finally now, after pushing for credible officers in positions of power and influence, the first step has been taken," the Congress leader said.